During this year's Star Wars festivities, Lucasfilm revealed the advent of a new era in Star Wars, which will present events that take place after Part 9 of the Skywalker Saga. Thus, there are actually nine eras in the universe that specific productions have been dedicated to, including movies, series, books, and comics. Check out the full Star Wars schedule details below.
Dawn of the Jedi is the first era of the Star Wars universe, which, like the next era, The Old Republic, has yet to see a production. Next up is The High Republic, which includes all of the Star Wars: High Republic books and comics, as well as the recently released The Adventures of the Young Jedi animated series.
The next era is Fall of the Jedi, which includes, among others: a prequel trilogy. It is followed by Reign of the Empire, which includes Rogue One, Andor, Obi-Wan Kenobi, and Star Wars Jedi: Fallen Order. The Age of Rebellion is the era of the first Star Wars trilogy in which we meet Luke Skywalker.
The New Republic is another transition period, which includes The Mandalorian and Ahsoka series. In contrast, the events of Rise of the First Order are presented in a trilogy of sequels. The ninth and final era is the New Jedi Order, which will be represented by a new movie announced in April of this year, in which Daisy Ridley will return as Rey.
Star Wars timeline
Dawn of the Jedi

Old Republic

Supreme Republic

Star Wars: The High Republic

The Adventures of a Young Jedi

the assistant

Fall of the Jedi

The imaginary threat

My grandfather's tales

Attack of the Clones

The Clone Wars

Revenge of the Sith

Empire era

lousy bunch

Star Wars Jedi: Fallen Order

Han Solo: A Star Wars Story

Obi-Wan Kenobi

Star Wars Jedi: Survivor

Andor
Star Wars: Rebellion
Vader the Immortal: The Star Wars VR Series
Rogue One: A Star Wars Story

The age of rebellion

New hope

The Empire strikes back

Return of the Jedi

Star Wars: Battlefront II

Star Wars: Squadrons

New Republic

The Mandalorian

Boba Fett book

Ahsoka

The ship's crew

First class ascension

Resistance movement
The force awakens
The last jedi
Skywalker. alive

New serious request

Sharmeen Obaid Chinoy movie with Daisy Ridley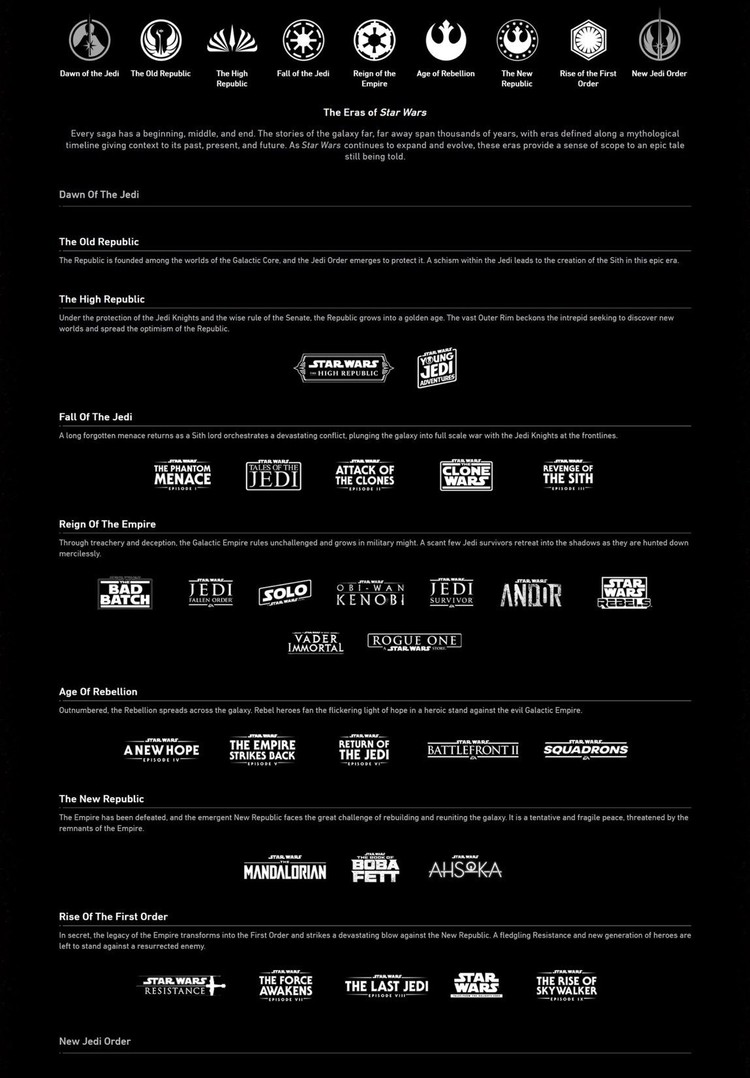 "Amateur social media maven. Pop cultureaholic. Troublemaker. Internet evangelist. Typical bacon ninja. Communicator. Zombie aficionado."