Today was the first day of the Intel Innovation Conference 2023, during which part of what the company planned for the coming years was presented, including: on processors for computers and servers. We've already prepared more comprehensive materials on Meteor Lake systems, the first generation Intel Core Ultra. However, Meteor Lake was not the only guest of the conference, and at the exhibition we learned information about the next generations of Core Ultra.
During the first day of the Intel Innovation 2023 conference, Pat Gelsinger presented a silicon wafer for Arrow Lake processors, manufactured using Intel 20A lithography, and confirmed other plans for future generations of computer systems and servers.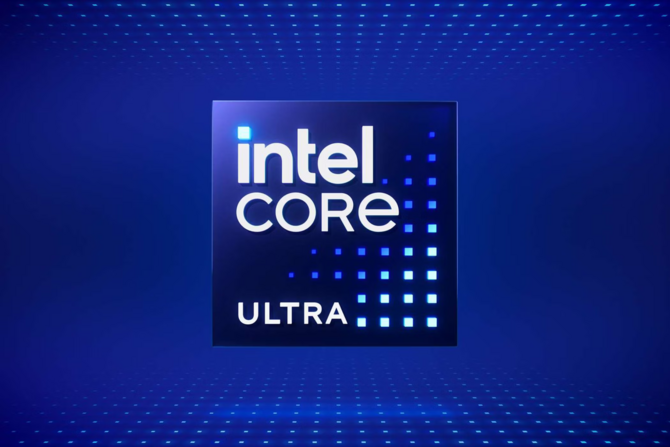 Intel Meteor Lake – features of the first generation Core Ultra processors, designed to save energy
During the Intel Innovation Conference, Pat Gelsinger confirmed work on the next three generations of processors, which will reach the markets in 2024 and 2025. More is said about Arrow Lake, because in this case Gelsinger introduced a silicon wafer with Arrow Lake (Compute Tile) systems, manufactured in the Intel 20A process. This demonstration should be a clear advertisement for the lithography that will actually be used to produce these systems. Arrow Lake is currently being tested, as is Lunar Lake. Interestingly, during the conference a working sample of the processor in a test book was already demonstrated, and one test closely related to the use of artificial intelligence was launched.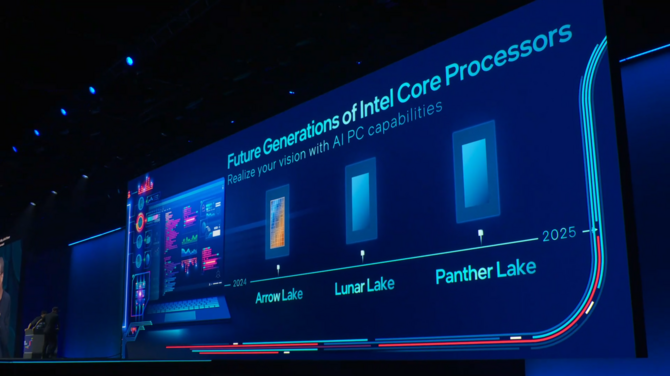 Intel Innovation 2023 – We learned the details of Intel lithography 4, which is expected to provide twice the scalability
While Arrow Lake is designed for desktops and laptops, Lunar Lake will only be targeted at laptops due to the focus on power efficiency. The computational tiles for these systems will be manufactured using Intel 18A lithography, which was also confirmed during the presentation. The first samples of systems using Intel's 18A process will be sent to labs in the first quarter of 2024, so there is currently no indication that these systems will experience any unexpected delays. In 2025, the offer will include Panther Lake processors intended for desktop and laptop computers. In this case, the Compute Tile will also use the Intel 18A process.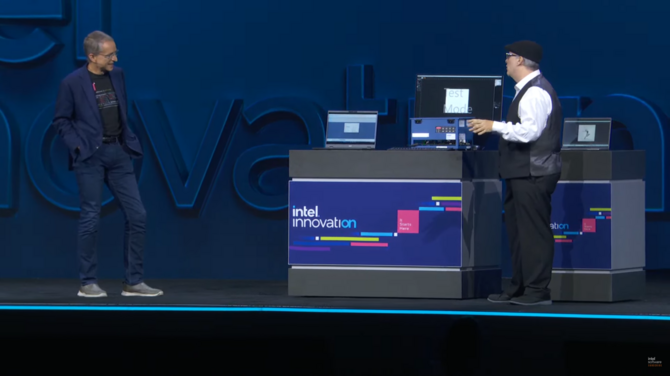 Working sample of Intel Lunar Lake processor
A little about the server's processors has also been revealed. The fifth-generation Xeon Scalable chips, codenamed Emerald Rapids, are on track for release this year. Their premiere will be on December 14, the same day as Meteor Lake. Pat Gelsinger also presented a sample of the 288-core Xeon Sierra Forest processor, which is based solely on efficient cores – both the processor itself and the silicon chip were demonstrated. In the following years, Xeon Granite Rapids (high-performance cores only) and Clearwater Forest (efficient cores only) systems will join the offering.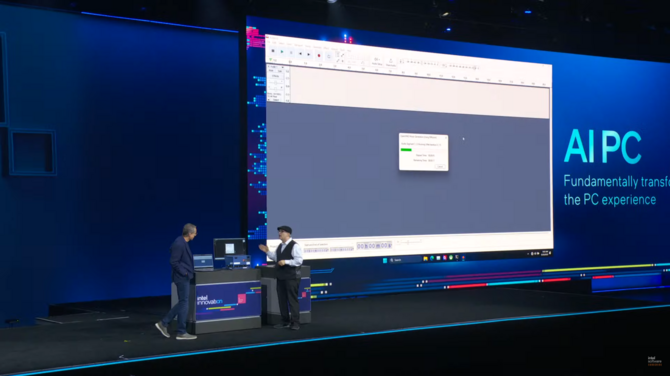 Working sample of Intel Lunar Lake processor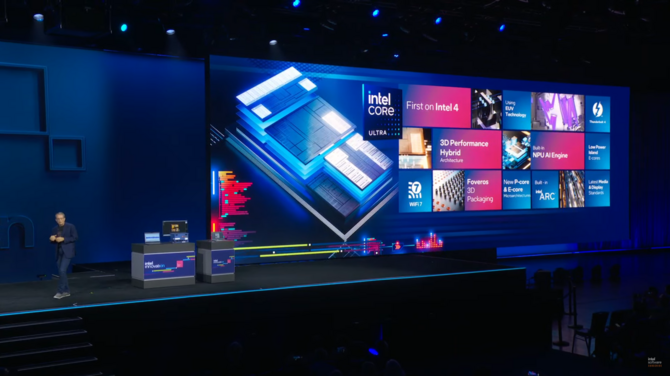 The first generation Intel Core Ultra — Meteor Lake — will debut on December 14, 2023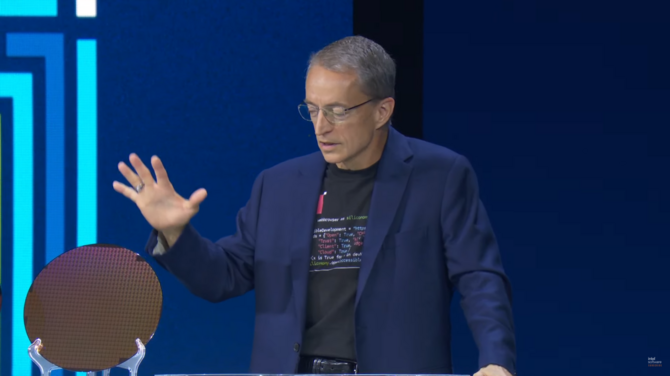 Silicon wafer with Intel Arrow Lake chips, manufactured using the Intel 20A process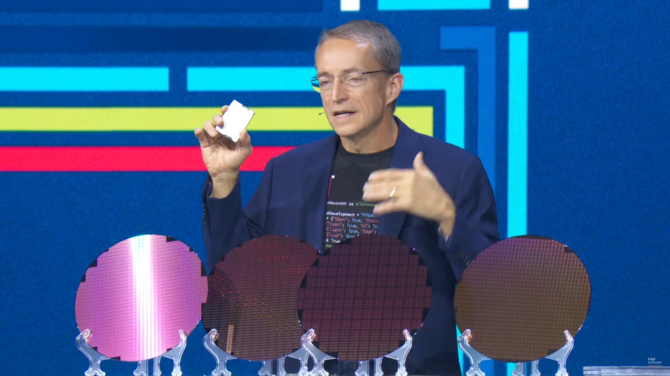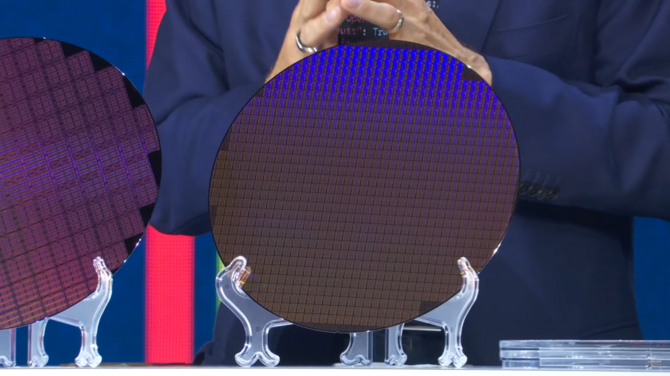 Silicon chip for Intel Arrow Lake (Intel 20A)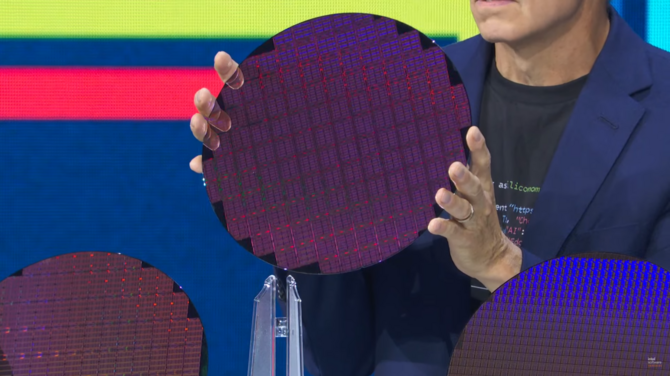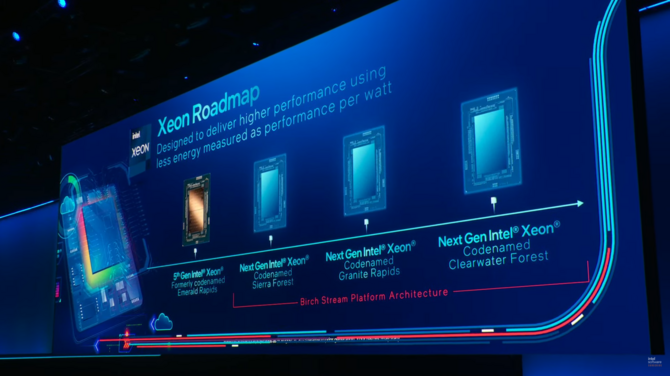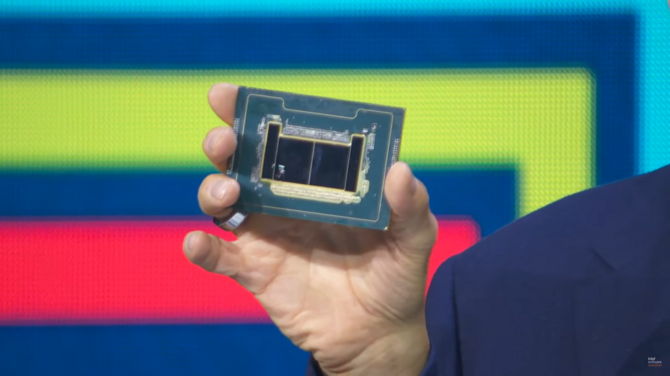 Engineering sample of an Intel Xeon Sierra Forest processor with 288 active cores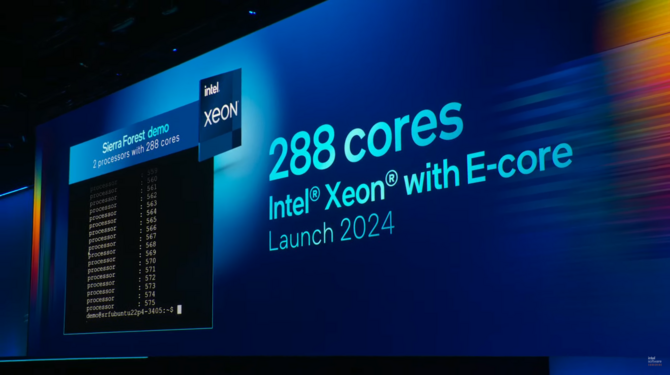 Source: Intel
"Prone to fits of apathy. Introvert. Award-winning internet evangelist. Extreme beer expert."