Ukraine's Defense Ministry posted a recording on Twitter comparing the Russian invasion to the "Die Hard" plot. The text at the beginning of the video reads: "This Christmas, the old tale of David and Goliath will come to our homes."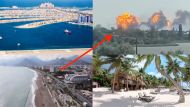 The Ukrainian Ministry of National Defense mocked the Russians. They recorded the film "Vacation" about the Crimea [WIDEO]
After powerful explosions occurred at the Russian base in Crimea, many Russians vacationing there fled the peninsula. Ministry of Defense…
See more
On December 26, the Ukrainian Ministry of Defense posted a video on Twitter that was an edited action movie trailer. The creators of the video, which uses the song "Carol of the Bells" by Ukrainian composer Mykola Leontovich and the Christmas song "Let it Snow" performed by Frank Sinatra, compared the plot of the picture to a brutal attack from Russia.
The video features scenes from the movie "Die Hard", in which Willis plays NYPD officer John McClane, who is trying to rescue the hostages of a dangerous terrorist. The video uses material recorded in Ukraine, such as a video showing a Christmas tree lit in the colors of the Ukrainian flag or an explosion during hostilities.
Read also: The arrival of weapons in Ukraine. They make fun of Putin, show videos and photos
Over the holidays this year, Ukraine is telling a festive tale of how a weakened adversary thwarted the private military operation of an arrogant terrorist. It was a perfect plan, as nothing was left to chance, and yet it all went well. A war you never wanted has become a war you can't afford to lose. This Christmas, the ancient tale of David and Goliath will make its way into our homes."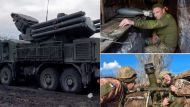 Great achievement of the Ukrainian army. They showed a movie making fun of the Russians [WIDEO]
And the Armed Forces of Ukraine wrote "trophies" and published a video of the capture of a whole column of Russian equipment. Another fighter shot down…
See more
The Ukrainian Ministry of Defense indicated that the production was created for soldiers who have been waging a fierce battle with the Russian invader for months. And on the holidays, which in the Orthodox rite begin on January 6, they will not go home.
"Weaker adversary conquers bad guys. We all love these stories. We dedicate this to the indestructible strong men on the front lines. Ukraine will win," the recording reads.
The war in Ukraine began on February 24, 2022. From the very beginning, the Russians claimed that the purpose of the "special military operation," as they called the invasion of Ukraine, was to "de-Nazify" this country, which in practice meant a change of power in Kyiv.
On Monday, the head of the Russian Foreign Ministry, Sergei Lavrov, was quoted by the Tass news agency as an ultimatum to attack Ukraine.
"Our proposal to disarm and disarm the territories controlled by the Ukrainian regime is well known to you. Satisfy these demands for your own good. If you don't, the Russian army will decide the matter," Lavrov said.
Source:
PAP life
# Ukraine
#war
#Russia
#Invade
# glass trap
# Bruce Willis
"Amateur social media maven. Pop cultureaholic. Troublemaker. Internet evangelist. Typical bacon ninja. Communicator. Zombie aficionado."