Older people are more likely to perceive AI-generated speech as human than young people. Unfortunately, because of this, they are more likely to be defrauded by people who use this technology.
Humanity + around the corner? a. Spirit Over Transhumanism: Artificial Intelligence Changes Everything
There are increasing advances in methods for measuring brain activity, analyzing electrophysiological and neuroimaging data and understanding the processes…
See more
According to a new study published in the International Journal of Speech Technology, older adults may have more difficulty recognizing the voice of an AI.
"The results of our study suggest that it may be difficult for older adults to discern them. While this area of ​​research is still in its infancy, future discoveries may lead to training programs that help older adults cope with challenges," says author Dr. Bjorn Hermann.
artificial intelligence. Elderly test results
during the experiments Younger (under 30) and older (over 60) volunteers Their task was to listen to sentences uttered by 10 different lecturers (female and male) and spoken by 10 AI-generated voices. Participants, among others, assessed the nature of sentences spoken by humans and computers, or were tasked with identifying human and computer sounds.
Google from the total disaster? It is threatened by artificial intelligence
People in their 60s and older had a more natural computer voice, and had difficulty distinguishing between artificial intelligence and human speech. The reasons why this occurs are still not clear and must be explored in further experiments.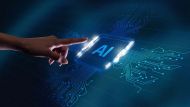 "More dangerous than nuclear warheads." Elon Musk warns about artificial intelligence
Elon Musk warned at the Dubai World Government Summit that artificial intelligence is "one of the biggest threats"…
See more
However, scientists have eliminated possible causes such as hearing problems or AI's good knowledge.
According to the researchers, it can work Less ability of older people to recognize emotions in speech.
"It seems that as we get older, we start to pay more attention to words rather than rhythm and intonation when trying to extract information about the feelings that are being communicated. Perhaps AI voice recognition requires focusing on rhythm and tone rather than words. This may explain why older people are unable to recognize AI speech," explains Dr. Herrmann.
According to the researchers, the results obtained, in addition to supporting the creation of training for the elderly, can help develop better technology based on artificial intelligence for the elderly. This type of technology can find a wide variety of applications, for example in medicine, elderly care and various services that facilitate their work.
As an example, the researchers cite smart robots that help people with dementia stay calm.
source:
door
#artificial intelligence
#letter
# Puss
# deceived
"Infuriatingly humble musicaholic. Problem solver. Reader. Hardcore writer. Alcohol evangelist."