Not the Lords, not the rush, not the fall of Atlas
Summing up my first impressions of Atlas Fallen, I wrote that if the interactive Deck13 game did not disappoint in terms of sand world exploration, combat and character development, then it would be really good. And you know what? It's really good. Ba! I will say more – A very successful action RPG will be on the market tomorrow. Yes Yes, Atlas Fallen is not like other spirits, Although the clashes are a bit tricky at times. As confirmed in pre-release interviews, the game is much closer to Horizon: Forbidden West (or Zero Dawn) or the later parts of the God of War series. Just that momentum isn't that…
Ironically, however, what may turn out to be a disadvantage for many, for me is the indisputable advantage of Atlas Fallen. This is not a game with a large, open world that offers dozens of hours of highly repetitive gameplay. Yes, there are distinct elements to sandboxes, like counterparts from Assassin's Creed viewpoints or other recurring activities, but the fact that The main story on normal difficulty takes 15 hours to complete Atlas Fallen proves to be a more modest (but no worse) production. And the more so that instead of one large map we get several smaller locations, access to which we open in the next stages of the story campaign, which …
… the leitmotif is the gauntlet. The character we lead is the one who doesn't get much chance, but simply becomes the heroine who grabs the gauntlet. Thanks to her, as the Chosen One, he will be able to save the world from evil, so yeah… It's not hard to guess on the one hand. The story in Atlas Fallen is based on clichés. On the other hand, I liked how the story fit perfectly into the game mechanics. It is one of those games where the final boss is waiting for you – without rushing – to complete a series of main missions and side missions to finally face the main antagonist. But without revealing the details, I will just say that unfortunately the last encounter was a huge disappointment for me. And it's not about the combat project itself, because this battle took place …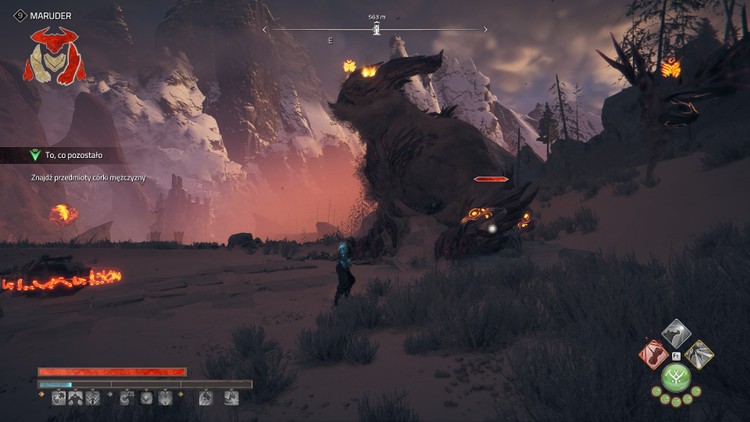 However, before the final duel took place, I had fought countless smaller duels, either against groups of regular opponents or against bosses. I would like to write strong, but really – nonetheless The battles in Atlas Fallen are very exciting – In fact, none of them stuck in my memory for a long time. This is probably due to the fact that Deck13 Interactive was on a very tight budget, so it prepared a modest number of enemy models that appear either in sandy wastelands or indoor spaces. In any case, There is nothing bad to say about the combat system. This is very interesting and provides a lot of fun, regardless of whether we are facing a completely new opponent or again an enemy that we have met some time ago.
Feel like this is a game from the creators of The Surge
exactly. Remember in The Surge, when you wanted to implant a helmet, you had to attack the opponent's head? Or a shield? Then it was directed towards the body. And so on and so forth. Atlas Fallen offers slightly modified but very similar mechanics. Well, it's not enough to lower your health bar to zero here. We need to destroy all parts of our enemy marked in red in the upper left corner of the screen; Optionally, we can also mine gold for more valuable items. However, it is not necessary to win a particular encounter, so how we approach the next duel is up to us. And we have more options.
"Prone to fits of apathy. Introvert. Award-winning internet evangelist. Extreme beer expert."