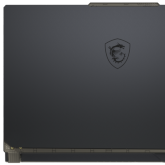 This year, the Taiwanese company MSI introduced a range of new and updated gaming laptops equipped with NVIDIA GeForce RTX 4000 GPU graphics for laptops. The most powerful of them – Titan GT77 HX 13V with GeForce RTX 4090 laptop GPU was tested already a few weeks ago. There, we could expect great results in games and utility software, but the downside was the horribly high price. Today we head to the opposite shore, to introduce the base model in this year's MSI lineup. We are talking about the MSI Cyborg 15 notebook priced at just over 6,000 PLN. This device is based on the NVIDIA GeForce RTX 4050 Laptop GPU and is the lowest GPU of the Ada Lovelace family, which offers support for eg. DLSS3.
Author: Damien Mrusiak
The NVIDIA GeForce RTX 4050 laptop GPU is the weakest representative of the Ada Lovelace architecture for laptops. It uses a truncated AD107 core with a 2560 CUDA FP32 processor. Compared to its immediate predecessor – the GeForce RTX 3050 Laptop GPU – the new Ada model offers slightly more computing units (2048 CUDA vs. 2560 CUDA). The new Ada Lovelace graphics chip is also equipped with a modest 6GB of memory (in the original version it provided 4GB of GDDR6, but this year its updated version was released with 6GB). The aforementioned 6GB of GDDR6 is placed on a more modest, 96-bit bus, which translates to a transfer speed of 192GB/s (at 16Gbps). On the other hand, the L2 cache has been increased, and this is at least to partially compensate for this change. The Ada Lovelace architecture itself is the same for desktop computers as it is for laptops. Thus, we get for example more powerful CUDA cores, a rebuilt RT core for ray tracing acceleration, and new Tensor cores with support for the frame generator and optical flow accelerator. There is also a newer generation of NVENC codec with AV1 support for example streaming content in better quality. We received an MSI Cyborg 15 laptop for testing. The GeForce RTX 4050 TGP laptop's GPU has a maximum power of 45 watts – this is one of the most energy-efficient versions of Ada Lovelace. Everything is developed in a completely new and more advanced TSMC 4N lithograph, that is, a non-standard 5nm version for NVIDIA systems.
MSI Cyborg 15 is currently one of the cheapest gaming laptops with NVIDIA GeForce RTX 4050 GPU.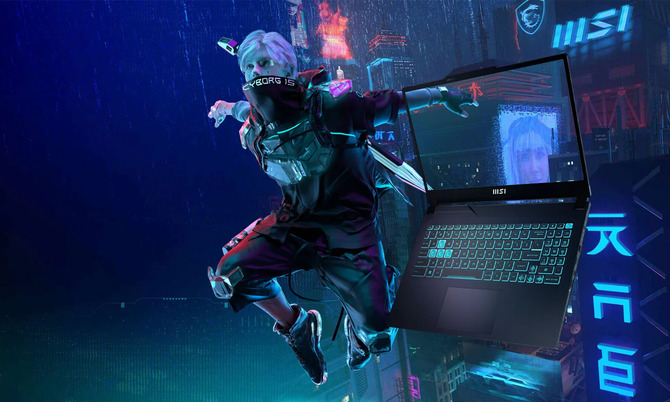 In the case of Ada Lovelace's architecture, one cannot forget about the support for DLSS 3 technology, the most important of which is the Frame Generation function, in which a third frame is placed between two already presented frames, created with the help of AI and Tensor cores, and for its preparation, among other things,. Side-by-side transmission and optical flow accelerator drive. With DLSS 3, performance can be greatly increased without significantly affecting image quality. On laptops, where screens have a much smaller diagonal and, accordingly, denser pixel filling, possible differences in the image will be less noticeable compared to larger screens. The list of supported games is growing regularly, and my tests in recent days confirm that they will be a real "game changer" for the netbook market, for which it currently has no competition.
NVIDIA GeForce RTX 4060 laptop graphics processor
NVIDIA GeForce RTX 4050 laptop graphics processor
NVIDIA GeForce RTX 3060 laptop graphics processor
NVIDIA GeForce RTX 3050 laptop graphics processor
building
Ada Lovelace
Ada Lovelace
Ampere
Ampere
Planning
m 107
m 107
GA106
GA107
Lithography
TSMC4N
TSMC4N
Samsung 8 nm
Samsung 8 nm
Surface
146 mm²
146 mm²
276 mm²
200 mm²
transistors
? one billion
? one billion
12 billion
8.7 billion
SP units
3072
2560
3840
2048
TMUs
96
80
120
64
Royal Oman Police units
48
48
48
32
RT units
24 (3rd generation)
20 (3rd generation)
30 (second generation)
16 (second generation)
tensor units
96 (fourth generation)
80 (fourth generation)
120 (3rd generation)
64 (3rd generation)
clock increase
up to 2370MHz
up to 2370MHz
up to 1702MHz
up to 1740MHz
memory
8GB GDDR6 (up to 16Gbps)
6GB GDDR6 (up to 16Gbps)
6GB GDDR6 (up to 14Gbps)
4 GB GDDR6 (up to 14 Gbps) – Released from 2022
6 GB GDDR6 (up to 16 Gbps) – Released from 2023
memory bus
128 bits
96 bits
192 bits
128-bit (2022 release)
96-bit (2023 release)
capacity
up to 256 GB/s
up to 192 GB/s
up to 336 GB/s
up to 192 GB/s
DLSS3 support
Yes
Yes
no
no
TGP Labs
From 35 to 115 watts
+ 25 dynamic boosts
From 35 to 115 watts
+ 25W dynamic boost
From 60 to 115 watts
+15W dynamic boost
From 35 to 80 watts
+15W dynamic boost
The tested MSI Cyborg 15 is one of the basic models based on NVIDIA GeForce RTX 4050 GPU for laptop. The cuts can already be seen, for example, in the choice of processor. In place of the 13th generation of the newer Intel Core chip, the 12th generation Alder Lake-H was installed. There are models with Intel Core i5-12450H or Core i7-12650H on sale, and for testing we got a version with the last processor. On board the laptop we will also find 16 GB of DDR5 RAM and a modest 512 GB SSD. The device also offers a 15-inch IPS display with Full HD resolution and 144Hz refresh rate. The Cooler Boost core system with one fan is responsible for cooling. MSI Cyborg 15 comes with Windows 11 Home in the latest build 22H2 already installed by default.
"Prone to fits of apathy. Introvert. Award-winning internet evangelist. Extreme beer expert."