The Federal Security Service said it had detained Wall Street Journal journalist Ivan Gerskovitch on charges of "espionage". Russian special services claim that he was collecting information about a military industrial company on behalf of the US government. The media reported that the detainee was working on an article about the activities of the Wagner Group.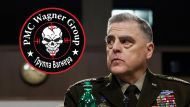 Wagner Group in Bakhmut. General Milley gives details
In the Battle of Bakhmut, the Russians threw nearly 6,000 soldiers. Mercenaries from the Wagner Group. This was announced by General Mark Milley, President of the College …
See more
The Russian Federal Security Service said that the American newspaper's correspondent "collected information from state secrets and that a criminal case of espionage had been opened."
Earlier, independent Russian media reported that Ivan Gershkovich, who has been working in Russia for six years, disappeared in Yekaterinburg while preparing an article on the Wagner criminal group (a private army known for its exceptional brutality, led and funded by Russian businessman Yevgeny Prigozhin; Mercenaries are being recruited to invade Ukraine from among the criminals in Russian prisons).
Gerskovitch has also worked for Agence France-Presse, The Moscow Times, and The New York Times. His last article was published on March 28. According to Russian law, the journalist faces a prison sentence of 12 to 20 years.
source:
Reuters Agency, Radio Liberty
#Russia
# journalist
#fsb
# Stop
# The Wall Street Journal
"Coffee enthusiast. Troublemaker. Incurable introvert. Subtly charming twitter scholar. Award-winning social mediaholic. Internet buff."