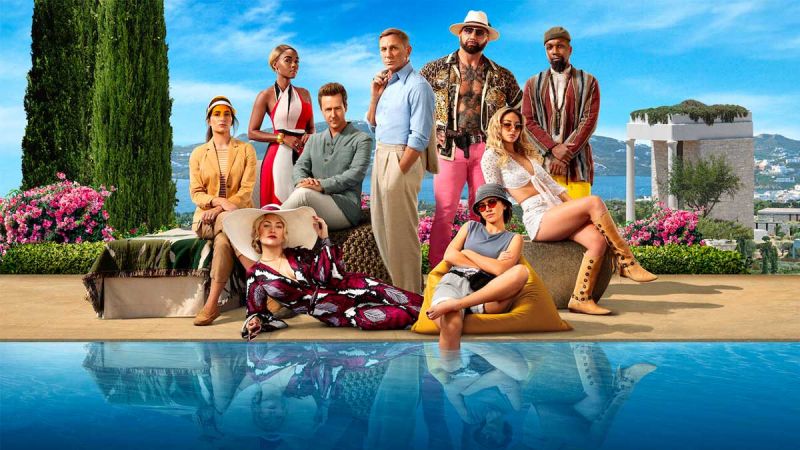 Photo. Press materials

exit Rian Johnson in his new movie The Glass Onion: The Knife Out Movie He returns to the hero of his creation, the brilliant detective Benoit Blanc. The character had already become iconic and viewers were eagerly awaiting the next case he would face. Thus, the detective ended up on a Greek island belonging to billionaire Miles Bron. The tech genius invited a group of his friends for a weekend getaway. By the way, he organizes a murder mystery game for them, which consists in searching for a killer. When the fun becomes real and one of the guests dies, Blanc steps in.
Johnson acted according to the iron rule of sequels – everything should be more powerful. The production shows a larger budget, which is evident even in the scenery and effects. You could say that the Creator can untie the skates. He was really only limited by his imagination. However, with all of the aforementioned circumstance, he was able to maintain an intimate and deeply personal character to the story and create a dense, sometimes even stifling atmosphere surrounding the main crime mystery. He has connected seemingly incompatible things. He skillfully intertwines the pageantry and cartoonish cool with a well-written murder mystery story, using the full potential of the characters and their relationships in a limited space.
As for the main intrigue – it is much simpler than in the first part. In places it looks frivolous and schematic. Fortunately, Johnson is an excellent detective. It completely deceives the viewer and leads them down wrong paths. Just when I thought I knew what it was about, suddenly I had my doubts. Indeed, not everything was as it really was. This shows that Johnson is a good storyteller. The macabre story and the detective are intertwined here with just the right dose of humor. The dark atmosphere is softened by the unexaggerated jokes, with the lightness that also characterizes the first part.
It should be noted that Johnson is able to weave social commentary into his story and present it in a loose and accessible way. The first part dealt with the topic of toxic family. This time the director laughs at the contemporary world scene. Tell us about worshiping celebrities and billionaires or building an image in social media. Everything passes through a distorting mirror. This gives a really interesting effect and translates into great, funny dialogues. Johnson is also not afraid of more serious topics. He weaved an epidemic and locked it in his plot. He shot the movie during this difficult period and made it an interesting piece of history. glass onion It's also an intriguing story about toxic relationships, false friends, and how fragile social status can be.
This story wouldn't be so great without an amazing cast. In fact, each star brings a lot to the project and defines their strength. Daniel Craig Plank is perfect. It's even funnier than the first. Kate Hudson And the Dave Bautista She is an excellent example of comic relief. Edward Norton He works perfectly in the role of someone Elon Musk's image is severely exaggerated. He enjoys his creation. Janelle Monae He has a well written role and can make the most of it. The actress combines drama and comedy. In terms of casting, there is nothing to complain about, because everyone makes the most of their five minutes and builds fun relationships with other heroes of the crime scene.
glass onion It's a great movie that you just want to see. I was a huge fan of the first part and was initially worried about what the sequel would be like. Unnecessarily. This is a production to which I will return. I recommend it with all my heart.
Big fan of action and science fiction. He believes that the most important thing in cinema is a well-structured plot, which amazes the spectator, after which he will collect his jaw from under the cinema chair. A fan of Marvel and DC comics as well as all superhero related TV and movie productions. Pop culture sucks in huge amounts. He loves all the intriguing behind-the-scenes plans and materials for film and series productions.
The Glass Onion: The Knife Out Movie
"Amateur social media maven. Pop cultureaholic. Troublemaker. Internet evangelist. Typical bacon ninja. Communicator. Zombie aficionado."