The Prime Minister of Mecklenburg-Vorpommern, Manuela Schwezig, has rejected all allegations regarding the construction of the Nord Stream 2 gas pipeline in the Baltic Sea and the climate foundation set up to complete it. She noted that the government of German Chancellor Angela Merkel has always supported the construction of the gas pipeline.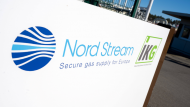 The German Climate Foundation has aligned itself with Russia. Build Nord Stream 2
The Climate Foundation of Mecklenburg-Vorpommern has been criticized since its inception for supporting the completion of the Nord Stream 2 gas pipeline….
See more
According to Schwesig, there have been many allegations, insinuations, and even conspiracy theories in recent weeks regarding Nord stream 2. "I want to make it absolutely clear: There is nothing to that," the prime minister said on Tuesday at a special session of the Landtag in Schwerin.
The fact is that Germany has been supporting the construction of the Baltic Sea pipeline for many years. – It is wrong to constantly point fingers at our land (Mecklenburg-Vorpommern – ed.) in this matter – Schwezig stressed, citing the dpa agency. The prime minister added that it was the German government led by Angela Merkel that had always supported the construction. in her opinion The chancellor personally negotiated with US President Joe Biden on the completion of construction.
Schwezig maintained that the government of Mecklenburg-Vorpommern always operated within the framework of German foreign and economic policy. – And at that time there were also good reasons, from our point of view, for the construction of the Baltic gas pipeline, – the prime minister admitted.
As Schwezig explained, it was about providing the economy and citizens with cheap gas, but by supporting Nord Stream 2, it represented not Russia's interests, but those of its federal state.
See also: Moscow does not plan to fix Nord Stream 1 and 2. It considers the project "buried"
source:
door
#Germany
#Russia
# nord stream 1
# Stream 2
#Angela Merkel
#Gas
# Mecklenburg-Vorpommern
"Coffee enthusiast. Troublemaker. Incurable introvert. Subtly charming twitter scholar. Award-winning social mediaholic. Internet buff."