Klaus Müller, head of the Federal Grid Agency, warns that the growing number of charging stations for electric cars and heat pumps in Germany may overload power grids. Plans to ration energy supplies are due to come into effect on January 1, 2024
Poland was rated by Fitch Ratings. Stable economy, very high rating
On Friday evening, Fitch Ratings announced its decision to maintain Poland's rating at A-/F1 for the long and short term…
See more
"If we don't act, there is a fear that installing more and more heat pumps and charging stations will lead to an overload on the electricity grids and local blackouts," he told the Frankfurter Sonntagszeitung. Klaus Müller, head of the Federal Network Agency.
Read also: Strategic cooperation with Iraq? Schulz wants to import gas and oil
Low voltage local networks are particularly susceptible to interference. Therefore, the agency has published guidelines How to temporarily ration electricity For heat pumps and electric vehicle charging stations during periods of high network load. Network operators will have to restrict power supplies to these devices in a centrally coordinated manner. "Energy rationing plans are due to take effect on January 1, 2024," the FAS reports.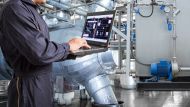 Orlin wants to develop small nuclear reactors. Negotiations with PAA are ongoing
Orlin is in ongoing dialogue with the National Atomic Energy Agency regarding the evaluation of SMR technology, the director of …
See more
"But it shouldn't have happened." Complete separation of heating and charging station. "We want to guarantee a minimum supply at all times," emphasized Klaus Müller.
Read also: Oil shortage? Europe is preparing for the embargo and importing large quantities
Thomas König, CEO of Dusseldorf-based energy company EON, called for great importance Accelerate the expansion and modernization of local and regional energy networks.
Source:
dw.com
#Germany
#energy engineering
#electric cars
#heat pumps
#electricity networks
"Infuriatingly humble musicaholic. Problem solver. Reader. Hardcore writer. Alcohol evangelist."