Bollywood blockbuster Pathan, starring Shahrukh Khan, hits cinemas in Bangladesh on May 12. In this country, since 1971, there has been an official ban on showing Bollywood films. This ban has only been lifted once in the past, which has led to an outcry.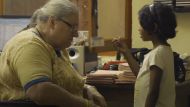 A Polish woman has been helping leprosy patients in India for 30 years. A movie has been made about this story
Helena Pease treats leprosy patients and takes care of children in need of help in India. She lived there for over thirty years. her story…
See more
And the portal "Variety" stated that the decision was taken in 1971 AD The purpose of banning Indian films from cinemas in Bangladesh was to protect the local film industry. It was announced immediately after the declaration of independence of this country.
So, although Bollywood movies are very popular in Bangladesh, they can hardly be seen on the big screen. An exception is made only once, In 2009, when the movie "Wanted" with Salman Khan hit the Bangladeshi cinemas. This was met with protests from local film organizations and after only a week the film was removed from the screens.
unblock
In February 2023, a historic decision was made by a consortium of 19 local film organizations. Their members came to an agreement and allowed the ban that was introduced more than 50 years ago to be lifted. Ten Bollywood premieres are allowed each year.
See also: Poznan is like Paris? Such things only in Bollywood. Watch the movie trailer!
"Run Lal, run!" Remake Forrest Gump [WIDEO]
Says the main character of the movie Lal Singh Chadha, who is in charge…
See more
The first movie to hit screens in Bengali is Pathan starring SRK ("Sun sometimes, rain sometimes"). The film will be officially distributed nationwide on May 12.
Bollywood movie
Cinema has always been a force that unites nations, races and cultures. It crosses borders, electrifies people and plays an important role in bringing them together. Nelson D'Souza, Director of International Film Distribution, Yash Raj Films said, "We are very excited that Pathaan, which has been a huge success at the box office around the world, will now be able to entertain audiences in Bangladesh.
Read also: Gdansk plays Paris in a Bollywood movie. A star-studded production
Directed by Siddharth Anand, Patan tells the story of a super agent who faces the challenging task of protecting India from a dangerous terrorist organization. The film grossed $130 million worldwide, becoming the second-highest-grossing Bollywood film in history.
source:
PAP life
#Cinema
# Bollywood
#Bangladesh
#film
"Amateur social media maven. Pop cultureaholic. Troublemaker. Internet evangelist. Typical bacon ninja. Communicator. Zombie aficionado."